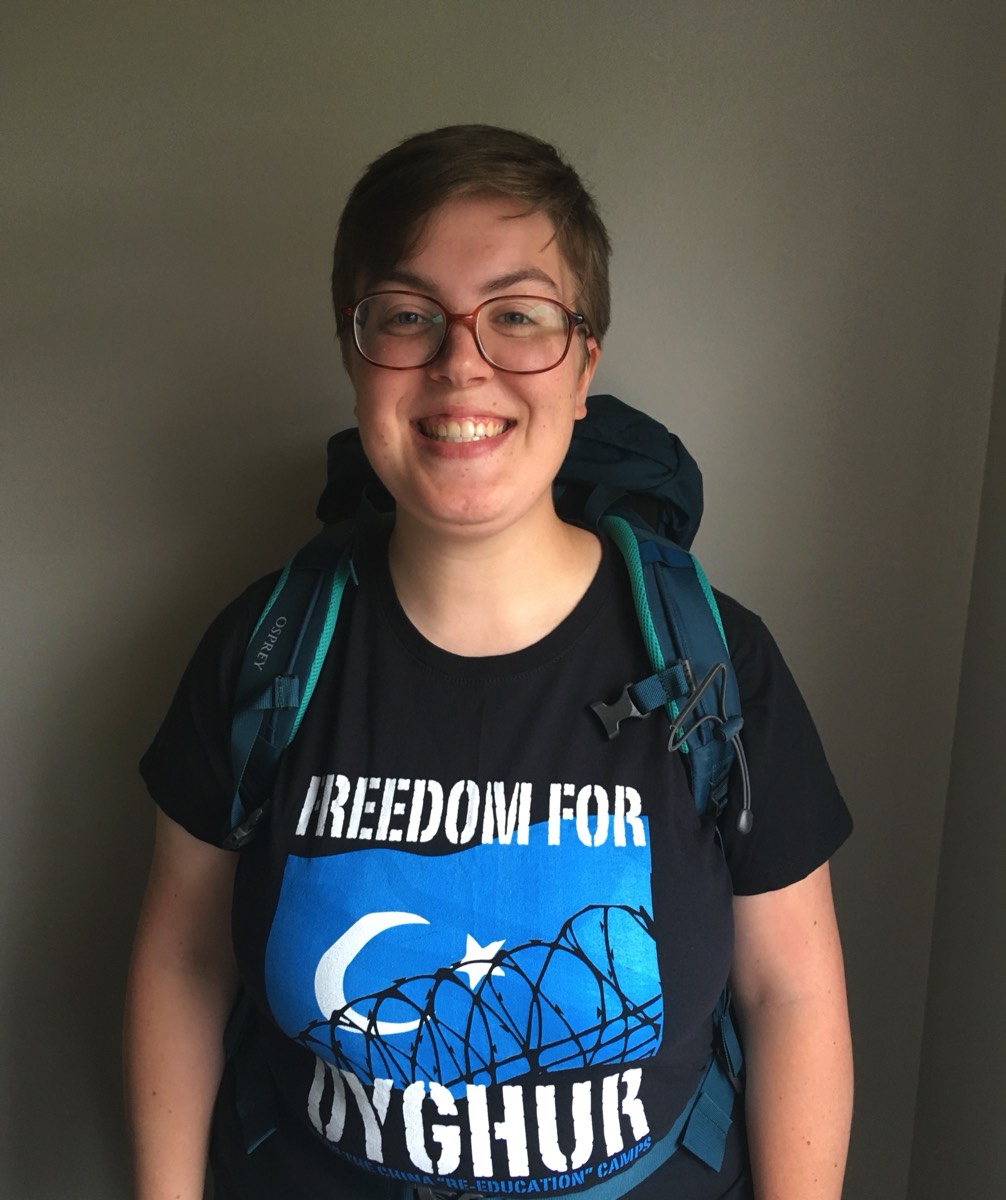 Nov. 16 News Flash: She made it!!
Raisa finished the Camino — 43 days 417 miles! Great job Raisa!
Sept. 24 News Flash: Freedom Trek - Camino!
Although Freedom Trek - Colorado Trail is now complete, we are excited to announce the start of Freedom Trek - Camino! Although this traditional pilgrimage was also part of our original inspiration, who could have guessed that a fellow advocacy friend would decide to do the actual Camino for the same cause? Amazing! So, we will keep the same pledge page and donation informaton available while Raisa walks the Camino de Santiago in Spain. The same pledge button (above) and forms will continue to work. Please show her your support by promoting her pilgrimage — especially that many new pledges would go to the Uyghur Wellness Iniative, where she serves as the project manager.
Raisa Dibble grew up in a Uyghur neighborhood in Almaty, Kazakhstan. She has worked with several small non-profits and recently joined the Uyghur Wellness Initiative (UWI) as a project manager. The UWI aims to support the Uyghur diaspora community as a platform for holistic wellbeing through public events, sharing strategies for coping with ongoing relief and trauma, and professional referrals. This is needed because so many are suffering from severe trauma resulting from the ongoing genocide (disappeared loved ones or themselves having been victims). For example, recently UWI hosted a well-attended event about Survivor's Guilt. We are also recruiting licensed wellness professionals to volunteer with us.
The Camino de Santiago is an ancient pilgrimage across the north of Spain that is walked by hundreds of thousands of people every year. Raisa is walking the Camino for 5 weeks this Fall. She will be handing out Freedom Trek information to other pilgrims, praying for an end to the Uyghur Genocide, and fundraising for advocacy organizations. Pilgrimage is an important part of many cultures and research shows that walking in nature can improve overall well-being. We pray that Uyghurs also find renewal and wellness in the midst of the ongoing genocide.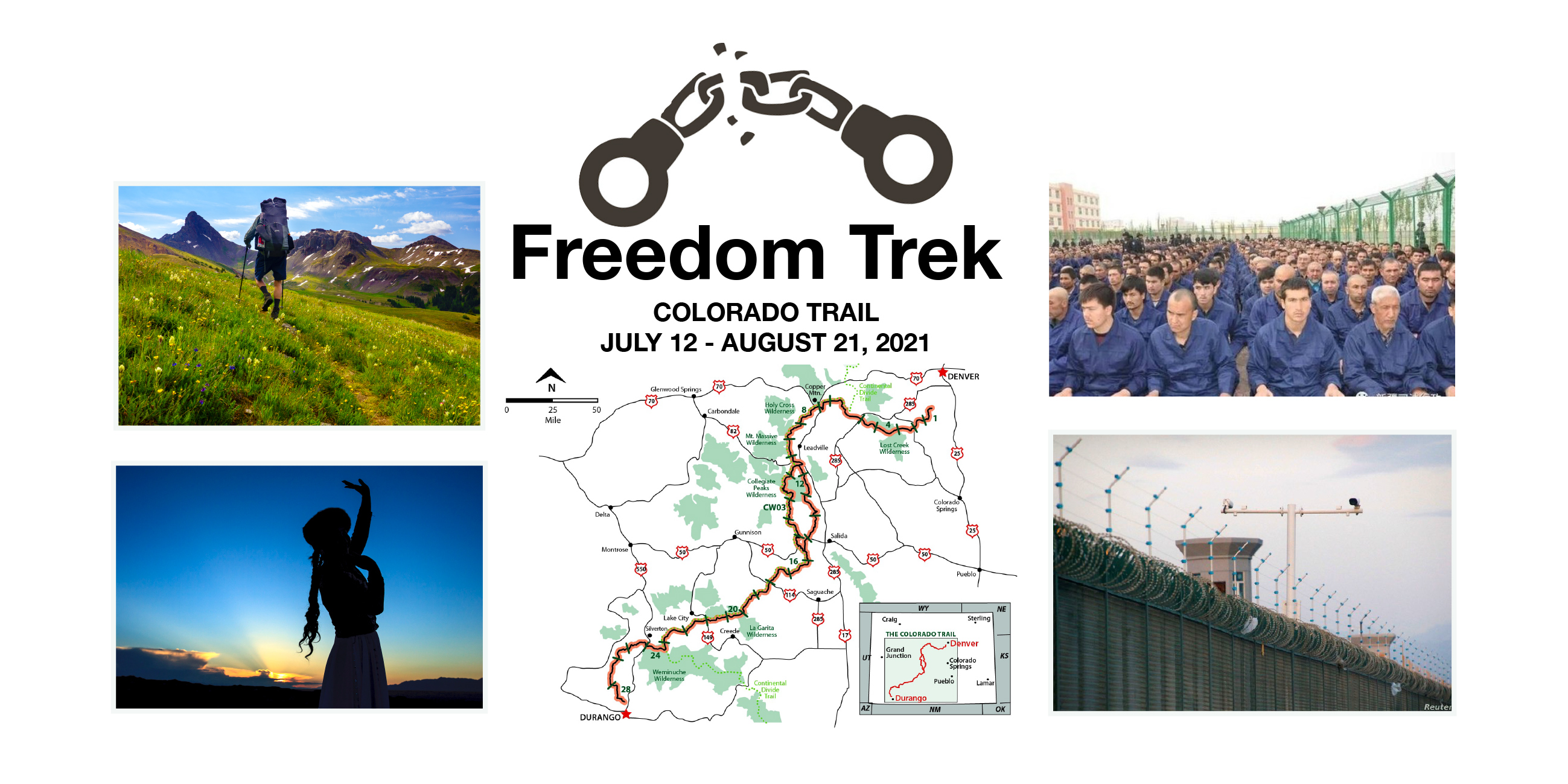 The Trek
Update: We are super excited to announce that Freedom Trek is now complete! On Friday, August 27 at 12:15 pm we arrived in Durango, Colorado through-hiking the entire Colorado Trail — that's 485 miles (780 km) with about 90,000 feet (27,432 meters) of elevation gain in 45 days.
As expected, the trek was trying at times (such as frequent monsoon rains and hail for two sections), but also incredibly satisfying. To be able to represent our Uyghur friends, as they face one of the worst human rights crises of the century, was a privilege we will cherish for the rest of our lives. And, to do so in a setting of absolute freedom and wild beauty was an amazing combination!
Owing to the Colorado Trail's popularity, we were able to spread the word as we carried placards on the back of our packs and handed out business cards with a QR code to scores of fellow hikers along the route. In terms of fund-raising, a total of over $11,000 has been pledged so far. We are hoping it will go even higher since we will keep the fund-raising open for another month (please continue to promote it in your circles.) All money is going directly to the cause, as each hiker paid their own trek-related expenses. Special thanks to those of you who already donated!
If you are interested in making a donation, just click the button "Make a Pledge" above and you will be taken to a webpage with everything you need. Thanks!
Also, please check back here in a few days to see the photo gallery from the hike that we will be posting.
—————
Origignal announcement: This summer (2021), the Silk Road Peace Project is organizing a benefit thru-hike of the 485-mile Colorado Trail. The purpose is three-fold: 1. Fund-raising 2. Advocacy, and 3. Prayer. (All pledges are tax-deductible and will directly benefit the Uyghur situation - see registration form for details. The hiking team — 4 individuals at the moment — are all paying their own expenses connected to the trek such as gear, food, and transportation.)
Advocacy
1. Making on-the-trail connections.
Every summer, several hundred people hike part or all of the Colorado Trail, creating a kind of "trail community." We will make the cause visible with custom patches on the back of our packs, T-shirts, etc. We will also pass out business cards with a QR code for anyone who is interested in learning more or in making a pledge.
2. Track the Trek - follow us on Twitter Follow @TrekFreedom
We are using this Twitter feed to provide updates on our hiking progress, educate about the Uyghur crisis, and to post the latest prayer points. We invite anyone to "join" the Trek in this way — virtually. You can start following us now, even before the trek begins by clicking the button below. We are already posting relative information about trek preparation and the Uyghur crisis.
Wilderness
What could be more opposite to this Orwellian nightmare than wilderness?  Wilderness is the ultimate expression for what Uyghurs most need right now — freedom. It is also the perfect backdrop for a kind of pilgrimage — time to reflect, intercede, and heal, far from the madness of a distracted world.
The concept behind Freedom Trek is not without precedent. For the ancient Hebrews, wilderness marked the end of their oppression and slavery. It was also the staging ground for the new era of freedom that followed. It is our sincere desire that, in addition to the practical ways already mentioned, Freedom Trek will inspire the faith and courage needed to believe that a new era for the Uyghurs is posssible.
Your involvement
We are eager to have you participate in this project! There are a number of options: You can pledge financially per mile, join the Trek virtually by following our Twitter feed (Track the Trek), meet up along the trail, or help with delivery of re-supply boxes (for those who live in Colorado). All these options are detailed on the Freedom Trek registration form below (just click the button).
---
Follow our progress in real time
You can use the GPS enabled map embedded below to track our progress in real time (obviously this will not be current until the trek begins on July 12). If your browser is having trouble loading the map, you can copy and paste this URL into another window: https://share.garmin.com/FreedomTrek