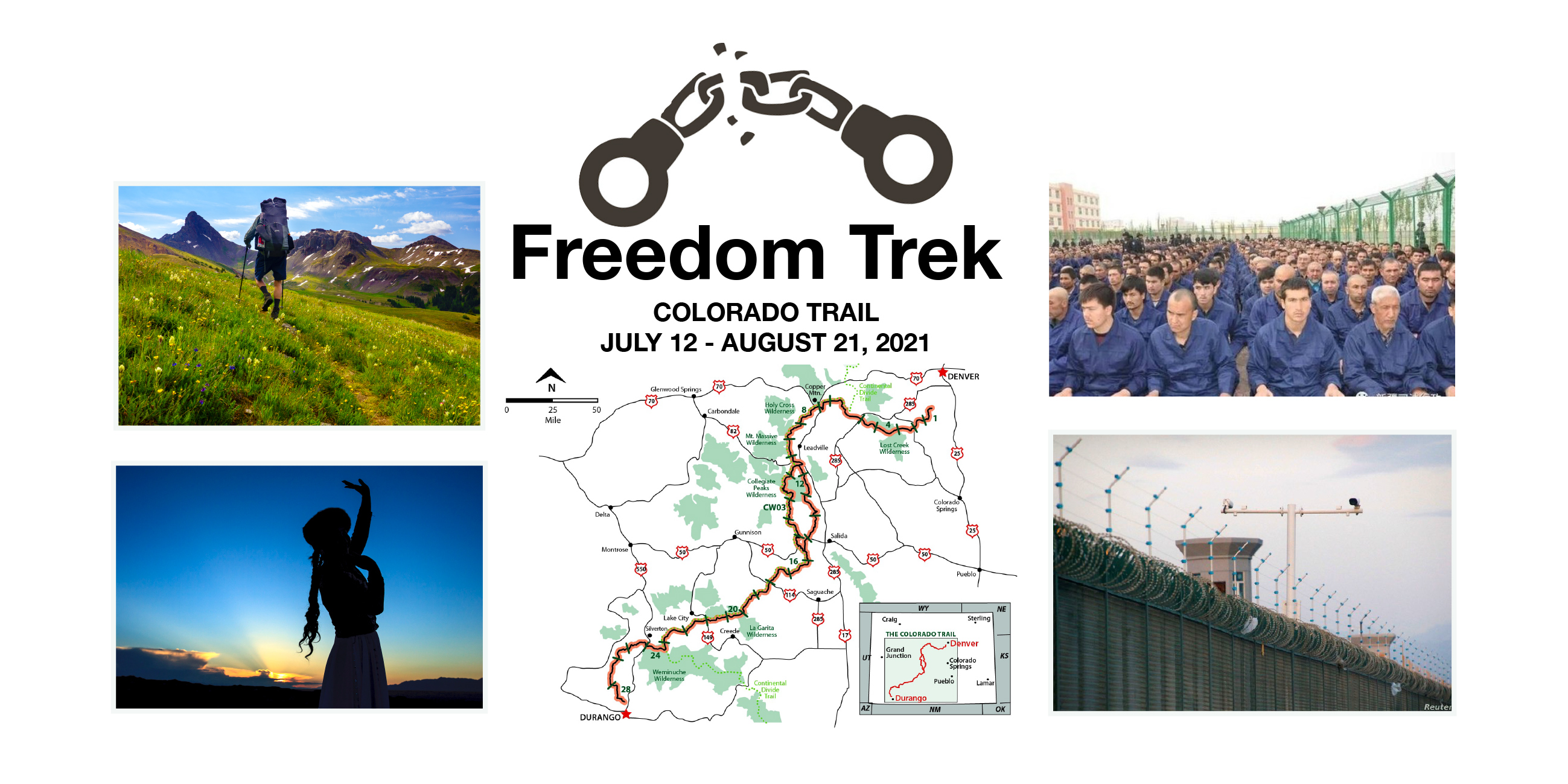 The Trek
This summer (2021), the Silk Road Peace Project is organizing a benefit thru-hike of the 485-mile Colorado Trail. The purpose is three-fold: 1. Fund-raising 2. Advocacy, and 3. Prayer. (All pledges are tax-deductible and will directly benefit the Uyghur situation - see registration form for details. The hiking team — 4 individuals at the moment — are all paying their own expenses connected to the trek such as gear, food, and transportation.)
Advocacy
1. Making on-the-trail connections.
Every summer, several hundred people hike part or all of the Colorado Trail, creating a kind of "trail community." We will make the cause visible with custom patches on the back of our packs, T-shirts, etc. We will also pass out business cards with a QR code for anyone who is interested in learning more or in making a pledge.
2. Track the Trek - follow us on Twitter Follow @TrekFreedom
We are using this Twitter feed to provide updates on our hiking progress, educate about the Uyghur crisis, and to post the latest prayer points. We invite anyone to "join" the Trek in this way — virtually. You can start following us now, even before the trek begins by clicking the button below. We are already posting relative information about trek preparation and the Uyghur crisis.
Wilderness
What could be more opposite to this Orwellian nightmare than wilderness?  Wilderness is the ultimate expression for what Uyghurs most need right now — freedom. It is also the perfect backdrop for a kind of pilgrimage — time to reflect, intercede, and heal, far from the madness of a distracted world.
The concept behind Freedom Trek is not without precedent. For the ancient Hebrews, wilderness marked the end of their oppression and slavery. It was also the staging ground for the new era of freedom that followed. It is our sincere desire that, in addition to the practical ways already mentioned, Freedom Trek will inspire the faith and courage needed to believe that a new era for the Uyghurs is posssible.
Your involvement
We are eager to have you participate in this project! There are a number of options: You can pledge financially per mile, join the Trek virtually by following our Twitter feed (Track the Trek), meet up along the trail, or help with delivery of re-supply boxes (for those who live in Colorado). All these options are detailed on the Freedom Trek registration form below (just click the button).
---
Follow our progress in real time
You can use the GPS enabled map embedded below to track our progress in real time (obviously this will not be current until the trek begins on July 12). If your browser is having trouble loading the map, you can copy and paste this URL into another window: https://share.garmin.com/FreedomTrek